Who is ready for the Olympics? Learn more about these historic games with these picture books for the summer Olympics.
Some summer Olympic sports you can research:
Gymnastics
Swimming
Track
Archery
BMX Racing
Canoeing
Judo
Equestrian
Water Polo
Trampoline
This year, the games are set in Tokyo, Japan. Here are a few picture books set in Japan.
The Boy Who Drew Cats by Margaret Hodges
A little boy who loved to draw cats often found himself in trouble for it. That is, until one magical afternoon when the cats decide to help their creator in a special way.
The Strongest Boy in the World by Jessica Souhami
Kaito has a reputation as the strongest boy in his village. No one else in his small town has been able to best him in a wrestling match, so he decides to try for a win in a world-famous sumo competition. On the journey to the tournament, Kaito meets Hana, a girl even stronger than he. When she agrees to teach him her ways, things change for Kaito.
Peach Girl by Raymond McNamara
In this take on the classic Japanese fairy tale, a girl named Momoko emerges one day from inside a peach. When she hears about an ogre nearby who is terrorizing children, Momoko bravely sets out on a journey to take him on.
Picture Books for the Summer Olympics
This is the inspiring story of the original Jamaican Bobsled Team. Despite lacking money, equipment, and support, this team of four determined men made it all the way to the 1988 Calgary Olympics to compete in the race of their life.
To experience this story cinematically, check out Cool Runnings.
Nadia: The Girl Who Couldn't Sit Still by Karlin Grey
Nadia Comaneci is known for her seven perfect scores in gymnastics. This story explores her early life in Romania as an active child who loved to climb trees and swing off of the branches.
A Picture Book of Jesse Owens by David Kimmel
Jesse Owens was born into a large farming family. He learned to run so well that people called him a "floating wonder." He went on to set several world records as a college athlete, and then later competed in the 1936 Berlin Olympic Games, despite Adolf Hitler trying to prevent him from doing so.
She Persisted in Sports by Chelsea Clinton
Throughout history, women have been kept out of sports by those telling them that they couldn't play. But sports are for girls too, as the women in this book prove.
Flying High by Michelle Meadows
From a life in foster care to the Olympic Games, this inspiring athlete will help girls everywhere dare to dream their most impossible dreams. With her adoptive family by her side, cheering her on all the way, Simone became free to pursue gymnastics with all her heart.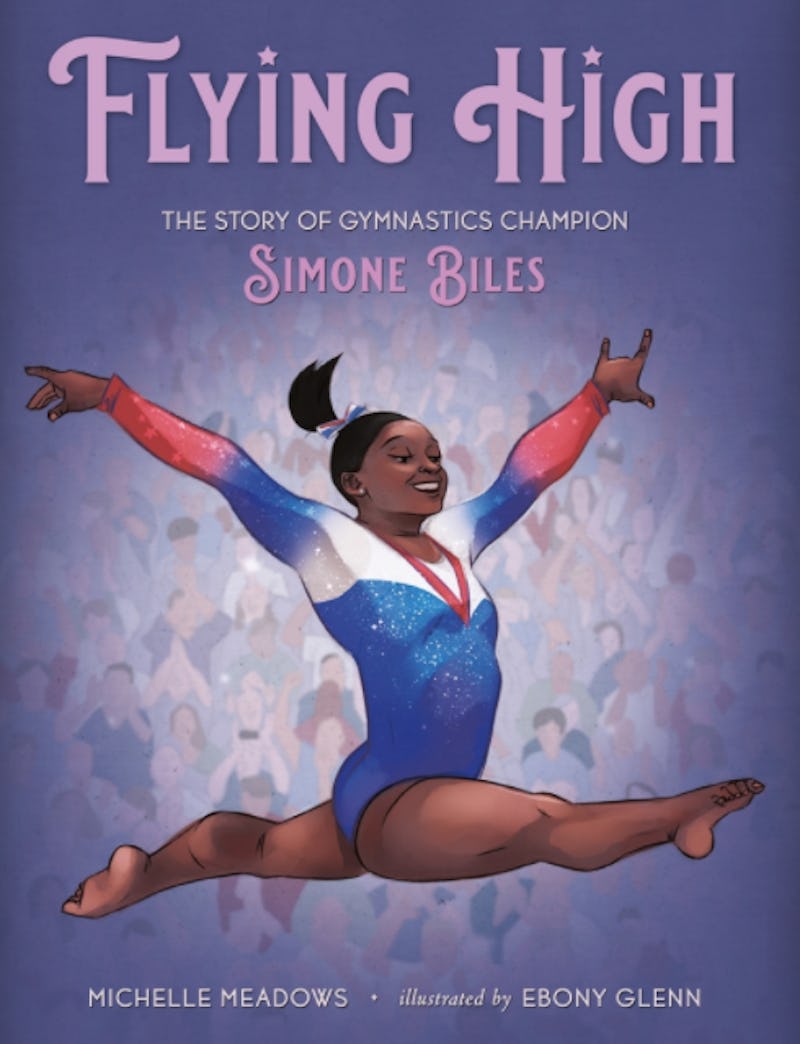 With an impressive fifteen World Championship medals and six Olympic medals under her swim cap, Katie Ledecky is a remarkable example of grit combined with natural aptitude. Learn how this Olympian developed her talents to make history in the pool.
Written by Olympians
She's Got This by Laurie Hernandez
Zoe becomes fascinated with gymnastics when she sees leotard-clad athletes soaring through the air on television. She signs up for a class and quickly realizes it's not as easy as it looks. Will she be able to get past her fear and fly through the air like the Olympians?
How to Train with a T. Rex and Win 8 Gold Medals by Michael Phelps
Michael Phelps explains his record-setting, award-winning training regimen in terms that kids can easily understand. This book will tickle your funny bone and have kids equal parts amazed and inspired.
Dream Big Little Pig by Kristi Yamaguchi
Kristi Yamaguchi is an Olympic gold medalist. In this sweet book, she encourages kids to work hard and dream big through the story of a somewhat klutzy pig called Poppy. Poppy can't think of anything she wants more than the chance to g
lide on an Olympic rink. Will her practice and hard work be enough to get her there?
About the Games
You Wouldn't Want to be a Greek Athlete! by Michael Ford
If you were a young boy growing up in ancient Greece, its possible that you might have experienced some family pressure to enter the Olympic Games. Turns out, however, that the original Games wasn't as glamorous as you might think!
G is for Gold Medal by Brad Herzog
This Olympic sports alphabet book is perfect for kids who love all things sports, competition, and the Olympic Games. Each letter corresponds to an event found at the Games.
Fun Books
Curious George and the Summer Games by H.A. Reys
Each year, the town awards a shiny medal to the winner of the Summer Games field day. George is so excited to participate! He works hard to find a sport that he is gifted at and begins to put his all into practice.
Although Boomer the pig has been training hard, he continually comes up too slow in race after race. But despite these losses, Boomer knows that determination, hard work, and a good dose of grit will carry him far.