Historical movies for older children are pretty easy to find, but more often than not they contain things that are not appropriate for young children. (I was recently reading comments recommending Schindler's List, one of the most brutal Holocaust movies ever made, to a fourth grader.)
Disclaimer: Some of the following links are affiliate links. I make a small commission from some of the links on this site. You can read my full disclosure
here
.
Here is a list of historical movies for kids, ages 6-12. All films are rated G unless otherwise noted. The films are somewhat listed by age range, the first films being for younger kids and the latter films for older ones (age 10-12). Additionally, these films include positive themes such as hope, friendship, courage, faith, and doing the right thing.
Not all of these historical movies for kids are "historically accurate," as the majority are designed for children. If these movies were to be historically accurate, most would be very violent. My family watches a lot of historical movies (both true and fiction) and then we look up what really happened; what was true and what was added.
If a fictional event in a historical movie encourages a child to look into what "really" happened and sparks an interest in a time period, then I would say it is a worthwhile movie. After all, a fictional book I read five years ago sparked a lifelong love of history in me. I hope this list encourages you to dig deeper into history!
Historical Movies for Kids
Liberty's Kids
Liberty's Kids is an animated series designed for teaching young children early American history, mostly the American Revolutionary War. After much hype, I finally bought it and we love it! The whole series (40 episodes) is on Amazon for only $5. The series has been completely worth it!
Inspiring Animated Heroes (Nest)
Explore great historical figures with this animated Christian biographical series. Episodes profile famous people like Harriet Tubman, George Washington, Abraham Lincoln and William Bradford.

Valiant
Valiant is the first animated film I have seen with facts at the end. Set in 1944 before D-Day, this British Disney film is about Britain's messenger pigeons during World War II. In the end, we learn pigeons played a bigger role in the war than horses, dogs, or cats.
Filled with adventure and some humor, it is a bit violent for a G-rated film (I think it deserved a PG rating), but it is definitely a great movie. There are a lot of WWII references that are used appropriately, but younger kids may not understand some of them. See: Valient Movie Study.
Ruby Bridges
Six year-old Ruby Bridges was the first black girl to attend a public school during the 1960s. Despite facing racism and challenges, Ruby persevered and is an excellent role model for youth today. It's a sweet movie about a brave young girl. Grab the movie guide at my site or Teachers Pay Teachers.
Torchlighters: Heroes of the Faith
The Torchlighters is an animated series featuring missionaries such as Jim Elliot, Corrie ten Boom and Amy Carmichael. We have the Corrie ten Boom one and although I would exercise some caution for little ones, they are great lessons!
The Prince of Egypt (PG)
The Prince of Egypt is the classical biblical story of Moses in a stunning animated picture. I never fully appreciated this film until watching "The Making of the Prince of Egypt" and saw how much heart was put into it. From the beautiful artwork, incredible vocal actors, and stunning soundtrack – this film is incredible and a must-see. Although it is not entirely biblically-accurate, I cannot help but include it in this list. Grab the free The Prince of Egypt Movie Study

Joseph: King of Dreams (PG)
This is The Prince of Egypt's sister movie, based on the biblical story of Joseph. Although not as good as The Prince of Egypt, it is a great, quality movie. It is also slightly more biblically accurate.
Adventures in Odyssey
Adventures in Odyssey is best known for its radio broadcasts for children. They also have an incredible series of historical books and movies. While their movies emphasize on doing the right thing and other virtues, many are set during historical times – a double plus! You can find a lot of these on Amazon Prime.
American Girl Movies
So far, the only American Girl historical movies are Samantha, Kit, Molly, and Felicity. All are about courageous, noble girls growing up in different time periods but appeal to both boys and girls. They are packed filled with great lessons: both life and historical.
These make great movie nights, with plots and characters both children and adults will love! Amazon currently has all 4 movies in a pack for $10.

Various Biographies for Kids
Look at your local library in the kids' DVD nonfiction section and try to find historical movies for kids. Some popular figures that you may find include Harriet Tubman, George Washington, and more.
This is America Charlie Brown
One of my readers brought this up. I am sure I watched this movie when I was younger. Anyway, this is American history – from the point of view of Charlie Brown.
The Sound of Music
The Sound of Music is a wonderful true story, musical, and family movie that remains one of my family's favorites. Maria is a free-spirited nun in pre-WWII Austria who becomes the governess of seven children.
If you don't own it, you really need to. Grab The Sound of Music guide at my store or Teachers Pay Teachers.


The Miracle Worker
This Disney flick is about Helen Keller, who has been unable to speak, hear, and see since childhood. With the help of her teacher, Annie Sullivan, Helen begins to flourish. The Miracle Worker is a sweet story both kids and adults can enjoy.
American Legends (Disney)
This animated Disney film features 4 American legends: John Henry, Paul Bunyan, Johnny Appleseed, and Casey Jones. With catchy tunes and fun animations, this is a great film for the little ones and older ones alike!
Miracle of the White Stallions
Made in 1963, this movie can be slow at times. But, it is a true story and completely clean, best used for 8+. This Disney film is about the evacuation of Lippizaner horses from the Spanish Riding School in Vienna during WWII.
The Greatest Showman (PG)
P.T. Barnum is known as one of the fathers of entertainment and for founding the Barnum and Bailey Circus. This family musical isn't historically accurate but can lead into discussions on P.T. Barnum's life and the history of the circus. Grab the movie guide at my store or on Teachers Pay Teachers.
Walt Before Mickey (PG)
Walt Disney wasn't always the big name in the entertainment industry. Walt Before Mickey is an inspiring film about Walt Disney's life before his big hit – Mickey Mouse. It's not 100% accurate, but it is an interesting look into the history of movies, and how old movies were made.
Belle (PG)
In 18th century England, illegitimate and mixed-race Belle overcomes racial barriers to help end slavery. It has a couple of sensual scenes and many women wear low-cut blouses, but otherwise is a great movie.
It's a Wonderful Life
This classic Christmas movie seems slow at times, but it is 100% clean and has very great lessons about contentment, family, and selflessness. George Bailey wants to know what life would be like if he had never existed – and an angel makes it happen. This film was originally in black and white, but there is also a colorized version available. See: Free It's a Wonderful Life Bible Study.
I Love Lucy
Although not quite "historical," this old, clean series is fantastic entertainment for "the newer generation!" Lucy and her best friend Ethel, find themselves wrapped in mischievous adventures!
Johnny Tremain
I haven't seen this movie yet, but many readers have mentioned it, so I thought it was worth sharing. Inspired by the Newbery award winner written by Esther Forbes, Johnny Tremain covers the Boston Tea Party, Paul Revere's Ride, and the battles at Lexington and Concord.
The Whipping Boy
This is an old, old Disney Channel film based on the Newbery winning children's book. Despite the title, the film has little violence and is a fantastic historical film. If you're lucky enough to find this film, it is about a young orphaned whipping boy's journey's with a spoiled prince, known as Prince Brat.
Newsies (Disney) (PG)
This Disney musical is a fictional version of the Newsie Strike in 1899. Although the actual strike happened, a lot of events and main characters are fictionalized.
Themes include friendship, teamwork, never giving up, courage, and speaking up. Featuring an amazing cast and great musical numbers, Newsies is a great movie for the whole family, and among my favorite historical movies for kids. (PS Although the film portrays the strike a success, in real life, it was only a partial success. The reasons behind this make a great history lesson.) Grab the Newsies Movie Study
Fiddler on the Roof
Traditions! Tevye is a poor Jewish milkman with five daughters (and no sons). In a time of strict tradition, Tevye's three oldest daughters are free-spirited and break-away from "tradition" by refusing a matchmaker.
Through classic songs and Tevye's humor, this film contains great lessons on traditions and is a great film for introductory to the Orthodox Jewish culture. Grab the Fiddler on the Roof Movie Study
Leonardo: A Dream of Flight
I haven't seen this movie, but according to this article the age range is 8-11 and it's rated G. The story tells of Leonardo da Vinci and his famous flight.
Night at the Museum
Despite being completely unrealistic, I recently watched this trilogy and LOVED this movie so much! It's a fantastic introduction to historical figures such as Sacagawea and Teddy Roosevelt. The second one, Night at the Museum: Battle of the Smithsonian was my favorite, which includes historical figures like the Tuskegee airmen and Amelia Earhart. Grab the Night at the Museum Movie Study

Dolphin Tale (PG)
Dolphin Tale is the true story of how a dolphin gets a prosthetic tail! It's not the most "historical" film, but it's a true story, and have no doubt it will be seen as "historical" within the next few decades!
Madison (PG)
In this American underdog story, Madison follows the small town of Madison, Indiana and their journey to the hydroplane 1971 Gold Cup, against all odds. With a string of luck, the town is chosen to host the Gold Cup, much to the dismay of the "big shots." To host the race, the town must raise $50,000, plus get the Miss Madison, the town's boat, in shape. It's also based on a true story and is packed with great lessons on determination, perseverance, and teamwork.
Mr. Peabody and Sherman (PG)
Mr. Peabody is a dog who has invented a time machine. When his adopted human son Sherman accidentally uses it, they race through a variety of time periods to get back to the current day. This is a great intro to historical characters for younger kids. It prompts discussions on Marie Antoinette, the Trojan War, and Leonardo Da Vinci.
Remember the Titans (PG)
This classic, starring Denzel Washington, is the true story of how a black football coach broke racial barriers. You may want to preview this movie first due to some profanity, but it is an incredible movie with great themes! Grab the movie guide here.
One Night With The King (PG)
This movie is best for ages 9+. The story of Esther, told in this wonderful movie. Esther, a young Jewish orphan, was chosen to become the king's bride. Haman, the king's right-hand man and the second in command, wants to kill the Jewish race. Esther bravely stands up to the king, and saves her people. The first few minutes of the movie are somewhat violent, but violence is mostly off-screen. This biblical tale isn't entirely accurate either, but overall a good movie.
Secretariat and Dreamer (PG)
Secretariat and Dreamer are both true stories of notable racehorses. Both films are rated PG for minimal language.
The Color of Friendship
In this sweet Disney Channel original movie, two girls, a black African-American and white South African become friends in the midst of the heated 1970s. I would highly recommend this one.
I Am David (PG)
This movie is best for ages 9+. David is a 12-year-old boy growing up in a concentration camp. He knows nothing of the outside world. When he gets the chance to escape with nothing but some bread, a letter, and mysterious directions to get to Denmark, he seizes his chance.
The story could get brutal, but it doesn't. Instead, it makes a great family movie. The ending is a bit odd compared to the incredible book (my favorite novel of all-time!) but the film feels like a Hallmark film and includes great messages about self-sacrifice, faith and courage. See: I Am David Book Study
Another one of my favorite resources for educational TV shows is Curiosity Stream, which is only $2.99/month or $20 for a whole year. They have such a wide variety of shows for kids! It's like an educational Netflix. 🙂
Historical Movies for Older Kids
Below are some of my favorite historical movies that have great values and lessons and minimal violence, making them more appropriate for more mature children. I would recommend the below films for ages 12+.
Harriet Tubman is perhaps the most famous Underground Railroad conductor. This amazing story has some profanity and violence, but nothing felt graphic or over the top. It is recommended for ages 10+. Grab the Harriet Movie Guide
Jackie Robinson was the first African-American to break down racial barriers in Major League Baseball. Jackie was a man of great character and this is a great tribute to his courage and legacy. There's some minor sexual content and profanity (including several racial slurs) but it's an important, noteworthy film. Grab the 42: The Jackie Robinson Movie Guide
Miracle at Midnight
This is a made for TV Disney movie, and it is rumored to have been loosely based on the excellent children's Holocaust novel Number the Stars. It is a simple but good film showing the heart of Denmark during WWII, and how the nation pulled together to save 99% of their 7,000+ Jews. There's an off-screen mention of suicide (by hanging), but other than that it's pretty good for ages 9+.
Sergeant York (NR)
Set during WWI, Sergeant York is a classic black and white biopic made during WWII. Alvin York struggled with alcoholism for quite some time, before accepting Christ into his heart. Despite becoming a pacifist, he became a famous WWI hero, known for capturing a German position single-handedly. It can seem slow at time for younger children, but overall is a pretty clean movie.
Island on Bird Street (PG-13)
Inspired by Uri Orlev's semi-autobiographical novel, Island on Bird Street follows an 11-year-old Jewish boy and his survival in the Warsaw Ghetto during the Holocaust as he awaits the return of his father. It's a great film for tweens and teens, and it is Dove-family approved for ages 12+.
Run, Boy, Run (PG-13)
Run, Boy, Run is the incredible true story of a 9-year-old Jewish boy, forced to survive the Holocaust for two years on his own, by living both in the woods and with Polish families. During this time, he also loses his arm. This is definitely one of the most incredible survival stories I have ever heard. It has low content problems but was definitely hard to watch at times, especially for parents. It was also recently added to Netflix.
Return to the Hiding Place (PG-13)
Most Christians are familiar with the classic story of Corrie ten Boom's "The Hiding Place." Few know of her secret group of teen resistance fighters. This is their story, and contains strong messages of sticking up for righteousness. Also, being a Christian film, the violence is toned down but not downplayed. Here's my full review of the film.
Diary of Anne Frank (NR)
The Diary of Anne Frank is based on Anne Frank's diary she wrote while in hiding from the Nazis. Historical movies for kids relating to the Holocaust can be tough to find, but Anne Frank's story can be a gentle introduction to the subject.
The Drop Box
Pastor Lee Jong-Rak and his wife have taken in and care for hundreds of orphaned and/or special needs children throughout South Korea. Here is their insightful story of life, faith, and God's love. It's also on Netflix!
The Courageous Heart of Irena Sendler (PG)
This Hallmark Hall of Fame film is one of my favorite films ever. Irena Sendler was a Polish Catholic social worker who rescued 2,500 Jewish children in the Warsaw Ghetto during WWII. Incredibly, she and all of the children she saved survived the war. I would preview this before giving it to kids. (Near the end, there is a very heartbreaking (but not overly violent scene) where guards torture Irena, however, she refuses to talk.) See: The Courageous Heart of Irena Sendler Movie Study
Hidden in Silence (PG/PG-13)
Hidden in Silence is the true story of a courageous Polish teenager and her 8-year-old sister who hid 13 Jews in their attic for 2.5 years. Same warning as above.
A few more of my favorite true story biopics worth mentioning: (G/PG)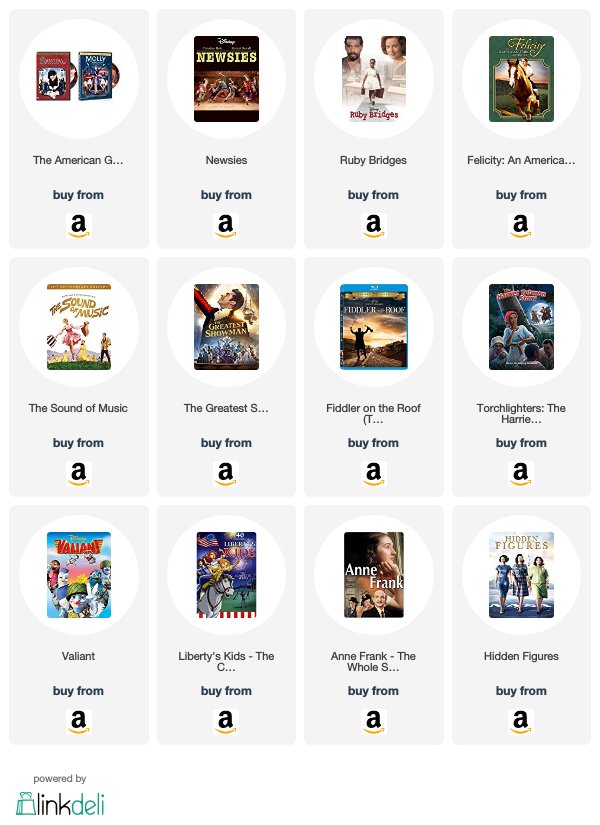 Make a movie night educational
Make a movie night educational with my growing collection of movie guides! From The Sound of Music to Night at the Museum, get kids excited about history through movies. You can also find me on Teachers Pay Teachers.
For all of my historical book and movie lists, visit learnincolor.com/history.
What are your favorite historical movies for kids?