Hanukkah is quickly approaching. Celebrate the miracle of the oil while learning more about this holiday with these crafts. I also have lists for my favorite Hanukkah books and movies and the best Hanukkah foods kids can make.
Hanukkah Crafts and Activities
Recycled Dreidel Paper Dolls – Bring Chesed Home
This craft can be easily adapted for preschools on up to late elementary kids. Create the cutest chain of paper doll dreidels holding hands in a chain using a paper grocery bag and materials to decorate.
Hanukkah Game – Learn in Color
Learn more about the history and traditions of Hanukkah with this FREE printable trivia game.
Lego Menorah – What We Do All Day
A toddler afraid of the real flames of fire inspired this alternative menorah. Use your legos to easily assemble this menorah and then disassemble on the eighth day–perfect for the family that already has too many crafts laying around the house!
Eight Nights of Hanukkah – Design Megillah
Use these cute gift bags to start a brand new tradition at your house–gift giving after the lighting of the night's candle. Each bag has a printable label that depicts the menorah with each day's candles lit. Fill the bags with small trinkets or candy and enjoy!
Origami Hanukkah Garland – Mom and Crafters
Origami stars of David and dreidels strung on some yarn make for a super cute garland for to add to your Hanukkah decor! These two are super easy to fold up in no time at all.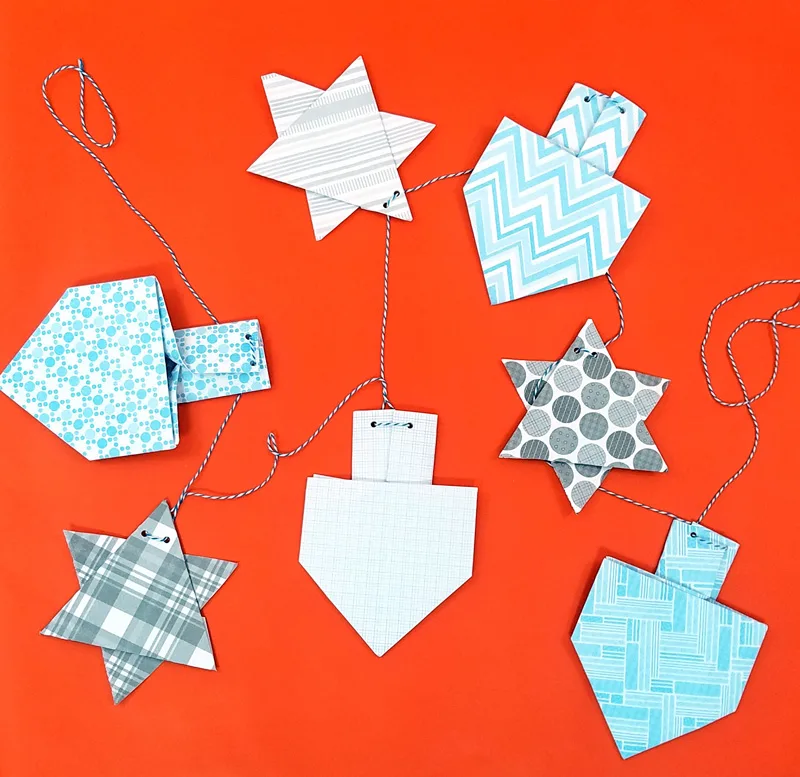 Literary Snack and Hanukkah Activity – Primary Playground
To begin this activity, read Is it Hanukkah Yet? by Chris Barash to your children. It's full of references to traditions surrounding the holiday, providing a great introduction to Hanukkah. Afterwards, sing along to Dreidel, Dreidel, Dreidel and watch the video linked below that to play the dreidel game. Lastly, let the kids enjoy some chocolate gold coins while coloring in their own menorah (free printable also linked).
Hanukkah Paper Cones – Fun Family Crafts
These Hanukkah Paper Cones are a breeze to whip up and so fun to stuff! After creating your paper cones, add things like chocolate gold coins and dreidels inside.
Make Your Own Gelt – What We Do All Day
Gold coins, called gelt, are a common site around the house during Hanukkah. Follow this link to discover how to make your own gelt, which you can then use for a friendly game of spin the dreidel!
Marshmallow Dreidels – Hostess with the Mostest
Use a pretzel stick, large marshmallow, chocolate kiss, and of course some edible blue glitter to make these adorable (and delicious) dreidel treats.
It's the kid's turn to make a Hanukkah snack! These easy-peasy rice krispie treat dreidels are yummy and simple. Perfect for your Hanukkah gathering.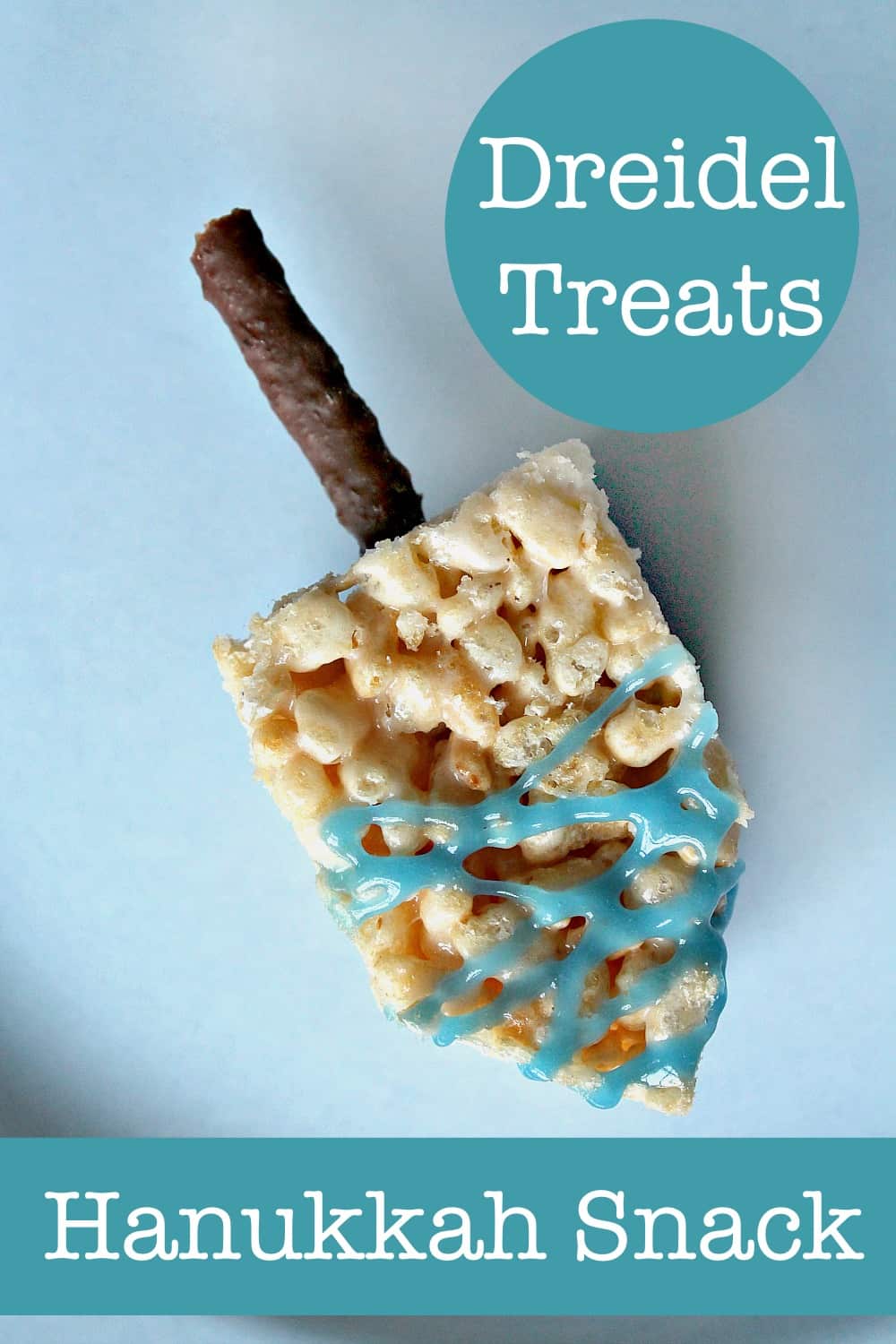 Use raisin boxes, tissue paper, paint, and tiny battery operated lights to create the Hanukkah version of a Christmas village. Perfect decoration for a mantelpiece or entryway.
East Rustic Star of David Wreath – A Set Apart Life
You'll need some dry twigs, felt, and some hot glue to put this rustic-looking star of David together. After gluing the twigs together, use the felt to create some dainty leaves for the side.
Easy 3D Star of David Craft – Nurture Store
This six-point star of David 3D craft combines basic math skills with a side of crafts. After cutting out 4-8 stars of various patterns, combine them to make a star that pops!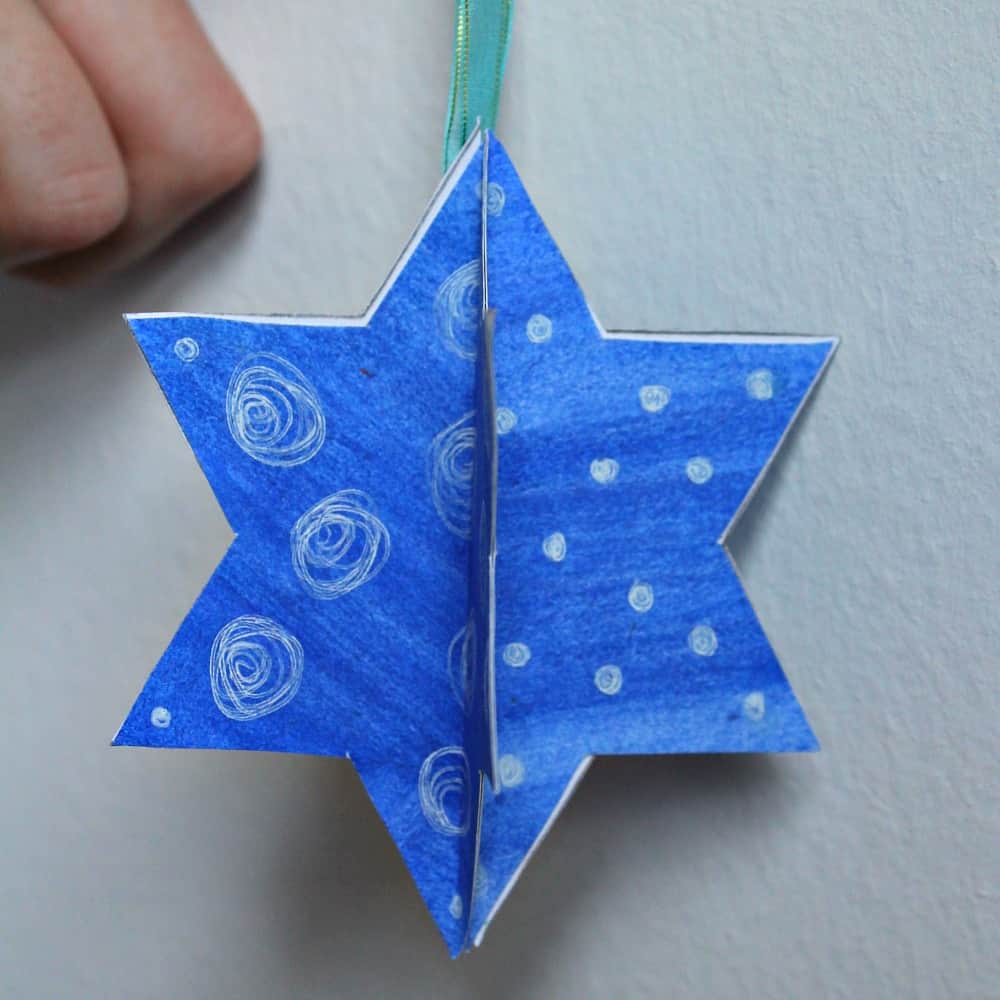 Paper Dreidel Garland – Paging Super Mom
Use this free printable patterned blue paper to create this beautiful paper garland of dreidels on a chain.
Dreidel Wall Art – Meri Cherry
Use your child's old artwork to create this wall-worthy Hanukkah wall art. Simply cut the artwork into the shape of a dreidel, play around the the color combinations, and glue to the back of a shadow box frame.
Watercolor Dreidels – Creative Jewish Mom
These simple paper dreidels are painted with watercolors to create gorgeous results effortlessly. When you're finished, you can hang them up, frame them, or even display them on a tray sort of like holiday cookies.
Nature Inspired Twig Menorah – Barley and Birch
This gorgeous but unconventional menorah is fashioned from moss, twigs, and pinecones. Kids will have a blast hunting down their twig "candles" and painting them in a rainbow of colors. After it's put together, you can add a "candle" each night of Hanukkah just like you would with a real menorah.
Star of David Maze – Print Activities
This free printable is sure to provide some Hanukkah fun! Just print and then use a pencil to help guide the dreidel through the maze to the little boy.
Hanukkah Pointillism Art – Coffee and Carpool
Paint your own beautiful menorah using pointillism, a form of painting that involves using little dots to create a picture. For younger kids, use washable markers instead of paint.