Summer is right around the corner! Get hands-on with these must-try 40+ summer science activities.

40+ Summer Science Activities
DIY Solar Oven S'mores – Desert Chica
Construct your own oven powered by sunlight and enjoy some yummy treats as your experiment for your new invention!


Ice Volcanoes – Reading Confetti 
Everyone loves volcano experiments. This is a perfect one for the driveway this summer that you can use with a variety of ages.
Shaving Cream Rain Clouds – One Little Project
This simple experiment can lead to a conversation on how rain forms.


Making a Water Filter – Planet Smarty Pants
Go outside and find some soil to dirty up that tap water from indoors. Then, filter it back to tap water with this cool experiment.
Magic Breaking Pencil Light Refraction – Life Over C's 
Teach your young ones about light refraction with this simple and "magical" experiment.


Elephant Toothpaste – Fun at Home with Kids
This is a simple yet memorable exploding experiment. With a name like elephant toothpaste, it has to be big!
Mentos Geysers – I Can Teach My Child 
A loved experiment by all and a fun one to do with the kids. Choose your soda, drop your mentos, and run!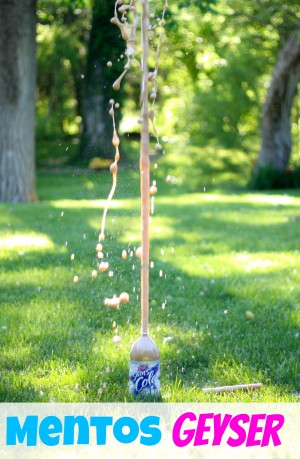 Exploding Paint Bags – Growing a Jeweled Rose
This a fun, messy, and creative experiment perfect for the backyard this summer.
Magnetic Silly Putty – Frugal Fun for Boys and Girls 
Learn about magnetic forces with this interactive putty recipe.


Make a Bottle Disappear – Science Alert
Your kids will have tons of questions once this experiment is over. Make a glass bottle disappear with the help of a drinking glass and lots of glycerin.
Zip Line Outdoor Stem and Physics Activity – Little Bins for Little Hands
Another fun backyard activity! Construct your own zip line, learn how it works, and send something (or someone) on a ride!


Homemade Bouncy Balls – My Frugal Adventures
Utilize the creative parts of your brain this summer while also learning a little something about the science behind bouncy balls with this fun activity!
 Tea Bag Rocket – Kids Activities Blog
This simple rocket can be made with household items and will have the kids in awe! Help them light their tea bag on fire and watch it soar.


Heat Sensitive Color Changing Slime – Left Brain Craft Brain
Discover the science of cool and heat with this sensitive slime recipe.
DIY Rocket Building Stations – Lemon Lime Adventures
Rockets are always a fun experiment and some of the first things we think of when we think "summer science". Create the perfect ones to launch with these building stations.


Homemade Telescope – 123 Homeschool 4 Me 
Find a nice breezy, clear night to head out to the backyard and gaze up at the stars after constructing your own telescope! Teach the kids the basics of space and help them find different constellations once your project is completed!
Hot Ice Science Experiment – Playdough to Plato
This experiment will have your kids asking question after question and keep them busy afterwards. Create your own ice tower over the stove and play with the results!


Pop Rocks Balloons – Almost Supermom
Teach the kids the science behind blowing up a balloon without the breathe from their lungs.
Cloud in a Jar – No Time for Flashcards
Cloudy day this summer? No problem. Stay inside and learn about how clouds form with this simple science experiment.


Simple Soil Science – Left Brain Craft Brain
Learn about the basics of soil and its part in the life of a plant with this simple educational experiment.
Homemade Crystal Egg Geodes – Growing a Jeweled Rose
Create your own geodes out of eggs, borax and paints to teach the kids a little geology this summer!
DIY Water Wall – Little Bins for Little Hands 
Stay cool while learning about cool science with this DIY Water Wall this summer.


Homemade Lava Lamp – 123 Homeschool 4 Me
Construct your own lava lamp in this fun experiment and the kids will be watching it the rest of the day!
Squirt Gun Science – No Time for Flash Cards
How are those colors appearing? Find out with this fun outdoor science experiment.


How Do Leaves Breathe? – EDventures with Kids
Go out and find the greenest leaves in the backyard and bring them back to the deck for a fun and explainable experiment.
Human Sundial – Rhythms of Play
Have the kids trace each other to make their own sundial clock.
Water Cycle in a Bag – Playdough to Plato
Inform your kids on the basics of the water cycle and allow them to see it for themselves with this fun window experiment.


Magic Milk Science Experiment – Fun Learning for Kids
This simple yet fun experiment will keep the kids wondering and busy for hours.
Homemade Compass – What Do We Do All Day?
Learn about map science and head off on your next adventure with this homemade compass activity.


Paint with Berries – Thriving Stem
Discover how nature can become crafts in this easy outdoor or indoor activity.
Exploring the Density of Liquids – Buggy and Buddy
Teach the kids the basics of density with this simple indoor activity on a rainy day this summer.


Parabolic Solar Shoebox Cooker – Almost Unschoolers
Create your own form of heat to roast those marshmallows this summer with a shoebox and only a few other household items in this crazy cool experiment.
Water Desalination Experiment – Capri Plus 3
Why is freshwater important? Explain it to your kids through this easy desalination experiment!
Egg Drop – Lemon Lime Adventures
Use whatever supplies you can to have your own egg drop competition or solo experiment this summer.


Homemade Compost Pile – Family Education 
Keep this "experiment" going all summer in order to teach your kids the basics of biology and importance of reuse.
Backyard Water Wheel – iGame Mom
Discover how water wheels work in this simple experiment.
Crystal Feathers – Schooling a Monkey
Discover crystallization by dipping your own feathers and watching the crystals form.



Exploding Sandwich Bag Experiment – Come Together Kids
Use these common household items in this fun experiment to magically turn white into color with some squirt gun fun too!
Dragon Science – Kid Minds
Green fire? This one takes a little parent supervision, but is sure to get your little scientists involved!
Rainbow Bubble Snakes – Housing a Forest
Have the kids see how long they can make their snakes with this simple experiment from bubbles.

More Science Activities