30+ Hands-On Ways To Teach The Solar System
I love a variety of good ways to teach without a textbook! From history to art, there are a bunch of exciting ways to bring learning to life. Check out the full series here.
Today, I wanted to share these tactile ideas for learning about the Solar System, including the planet earth we live on and the moon.
Solar System
Use a large pumpkin to represent the sun and two packs of mini pumpkins for the other planets. Then space them apart outside on the sidewalk or driveway and chalk out their orbital paths. While this model will obviously not be to scale, it still provides a fun and tangible way to practice the names and order of the planets.
Get your kids excited about learning the solar system by using food! No one can turn down a healthy and delicious snack, so create a model of the solar system using different fruits and veggies to represent the planets, their orbit, and their relative sizes to each other.
Use some clay to roll some mini planet balls and then attach them to the top of a glass jar with some fishing line. Then glue the string to a plastic ring and attach it to the inside of a jar. Add in your water, a few drops of glycerin, and of course some glitter for a little sparkle, and voila!-you've got a solar system snowglobe!
Use clear round plastic ornaments for this cute painted solar system. Choose ornaments that are different sizes or all the same circumference for this project. Paint the inside of the balls to match the colors of each of the planets. Use some string to tie into a loop and hang them on the tree!
These push on lights make for a super-cool illuminating solar system project! Just grab two packs of push on lights, some glass paint, and some modge podge. Paint each of the lights to match the colors of the planets, seal with modge podge, and let them dry. Then push on the lights to let the planets shine!
Whip up a batch of cookie dough and pat it out onto a greased pizza pan. Use dyed cookie dough to create rings of orbit and add in some different sized candies to stand in as planets. Bake and enjoy!
If you're looking for a fun way to get your kids excited about learning about the solar system, check out this free printable! This colorful game board will introduce a little bit of healthy competition into your learning.
Use foam sheets and crayons to cut out the eight planets and a sun for the center. Just like that you have a nice and simple way to talk about the solar system and the paths of orbit.
For this entertaining activity, you'll need a plastic canvas needlework circle, paint, and some buttons. Draw the rings of orbit around the circle and center the sun button in the middle. Then attach the other buttons around the needlework circle for a unique model of the solar system.
These felt planets, sun, and moon, are super easy to stitch up for a quick lesson on space. Preschoolers especially will love these plush pieces.
This solar system craft utilizes a mixture of yarn and paper mache to create a neat hanging milky way galaxy! Blow up balloons to the size you want the planets to be, wrap colored yarn around them, coat them with paper mache, and wait for it to dry. After popping the balloons, you'll have an impressive spacey display!
Simple Edible Solar System Model
Use various kinds of candy (see post for suggestions), have the kids build a solar system on a piece of construction paper. The bonus of this project is you get to eat it when you're done!
Planets
This is a wonderful craft to use when introducing the planets to younger children. Have them color with markers
on coffee filters, spray with water, cut out, and watch space come to life in color!
Both younger and older children alike will enjoy this paper mache project. Colored tissue paper makes for a rainbow of planet colors. Suspend from the ceiling with some fishing line for the full effect.
Use acrylic paint and shaving cream to help create a marbled look for your planets. This is such a fun way to integrate art and science into one!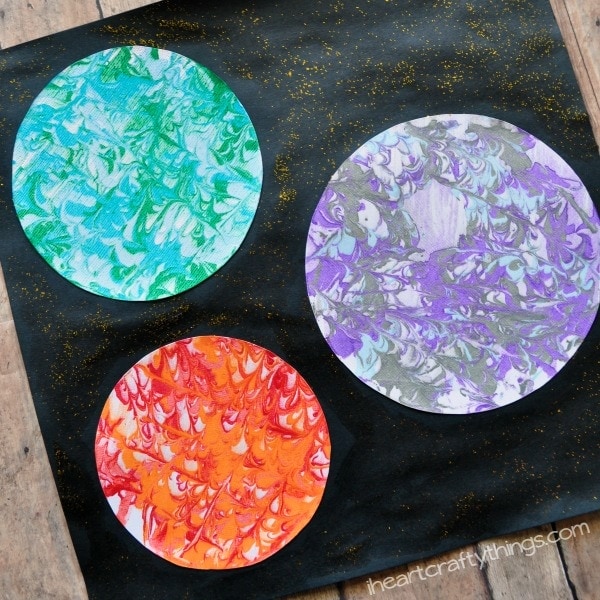 Print out this interactive notebook for a fun and engaging way to help your child go in-depth with their study of the planets and space. Explore the color, composition, size, and placement relative to the sun in a colorful and memorable way!
Using the chalk you already have in your garage, get your kiddos outside and into the fresh air for some planetary exploration! Draw the sun in the center and then create paths of orbit around it, adding in the planets as you go.
How Planets Orbit the Sun Hands-on Project
This Montessori-inspired activity is such a simple yet effective way to teach children about how planets orbit the sun and why. After demonstrating, kids can even try the activity on their own.
Exploring Planets with Dr. Seuss
Use the book There's No Place Like Space by much-beloved children's author Dr. Seuss to introduce your preschooler or early elementary student to the wonderful world of space with these delightful accompanying activities.
This free printable game is a quick way to get your game-playing fanatics interested in all things space. Print in color or even laminate for multiple uses.
Earth
Layers of the Earth Pudding Cups
For a yummy model of the layers of the earth, check out these pudding cups. Each section represents a different part of earth, from the crust to the inner core and is full of delicious goodness that kids are sure to enjoy!
Layers of the Earth Clay Activity
To make this clay model of the earth, use different colored clay, wrapping layer on top of layer. Then use waxed dental floss to create a cross-section of your earth model.
Layers of the Earth Soap Project
If you're looking for a model of earth's layers that won't end up in the landfill in a month or two and can actually be quite useful, look no further! These soaps are so colorful and thrilling to make!
Another earth's core project that your kids are sure to love. After helping to create each of the different layers and adding some frosting on top for land and water, you can cut a cross-section for examination and of course consumption afterward. 🙂
This printable 3D 'slice' of earth's core is a cool way to learn about what lies beneath the land we live on.
Layers of the Earth Playdough Models
A playdough model of the earth and its innards is such a great hands-on way to explore our lovely planet home.
If you have a lego enthusiast at your house, these lego layers of the earth might be the way to go! After creating one of these, kids will have a better grasp of the way our planet's insides are made up.
Sun and Moon
On a paper plate, draw and color a picture of Earth in the center. Then, label each phase of the moon around the outside. Now comes the fun part! Take a spoon and use it to carve out each phase of the moon in the creme. Enjoy!
Sun, Earth, and Moon Model Craft
Use paper plates and brass fasteners to create this simple model that clearly shows kids how the moon revolves around the earth and the earth revolves around the sun.
This project will help your kids understand the how and why behind our moon's craters. Use flour and baby oil in a round cake pan to represent the surface of the moon. Then observe what happens when asteroids and meteors (small pebbles) hit the face of the moon.
Solar eclipses are known for their stunning beauty. This craft captures that wonder and can make for a great conversation starter as you teach your children about how solar eclipses happen.