Unique, non-cheesy, quality, affordable, AND practical gift-giving is always a tough decision. You could go homemade, but if you're non-crafty like me, that's totally out of the question. You also may not want to give a cheap gift that will never get used. Here are some practical non-cheesy gifts under $25, for everyone in your life.
Disclaimer: Some of the following links are affiliate links. I make a small commission from some of the links on this site. You can read my full disclosure
here
.
As an extra bonus, all of these have a trustworthy amount of positive reviews or I've used from personal experience and love. I've noticed a lot of products that go viral are poor quality, or are in development and don't exist yet. That's no problem here! And remember, all prices are approximate, and will vary as time goes by.
Practical, Unique, Non-Cheesy Gifts under $25
1. Aqua Notes – $9 (now only available in a pack of 3)
Admit it, all of your best ideas happen in the shower. Say hello to Aqua Notes! Although I haven't tried them yet, it has a 4.5 average rating from over 600 Amazon users, and hundreds of 5-star reviews. This is PERFECT for writers or artists!



2. Impossible Puzzles – $15
Welcome to Impossibles – the puzzle with NO border and FIVE extra pieces! Also as you can see from the cover, the cover does not have the full puzzle, making it extra challenging! I bought this for my Dad last Christmas and we love it!
They have many designs too. Since these are on the rare side, you may have to do a bit of searching. Other designs include a cow-print, raining cats and dogs, fish, and more. This was the one we bought.
Edit: this puzzle seems to now be $40+, but similar puzzles under $25 include this Marvel one, 101 Dalmatians, and this geometric double-sided puzzle.



3. Chemistry Crayon Labels – $12
I memorized the Periodic Table earlier this year, and have been obsessed with it ever since. For the nerd in your life, these chemistry Crayon labels are inspired by the color the element makes under a "flame test." This is for a pack of 120, but the seller also has labels for smaller quantities of crayons, like 24. They don't come with the pack of Crayons.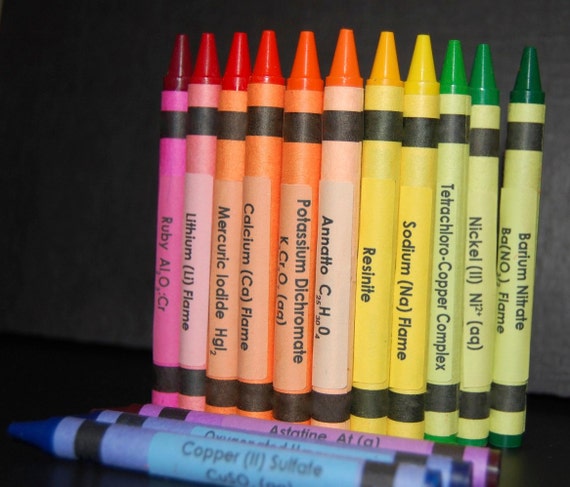 4. Color by Number for Adults – $25
Paint Plot creates beautiful paint by number canvases for adults. This is the one I have purchased and loved it, but they have several options. I plan on purchasing the Amsterdam themed one later.
5. Starry Night 1000 piece puzzle – $16
For the artist of the family, here is a thousand-piece puzzle of Van Gogh's famous classic "Starry Night!" The perfect challenge for anyone with an artistic eye.


6. Bombas Socks – $18
What makes Bombas socks unique is that for each pair of socks you buy, they will donate a pair. Bombas socks are made with wool and are known for being uber-comfortable.
7. Secret Garden – Stress-Relieving Coloring Books – $9

Coloring books are popular among adults now – and for good reason. They're relaxing and peaceful. Here is one of the best out there. Secret Garden has sold over two million copies.

8. Sushi Soap – $23
This Etsy seller creates incredible soaps in everyday objects, and she has rave reviews! Don't forget the ice cream sandwich, sushi, or turkey too.
Spritz the bowl before you go and no one else will never know. Made with essential oils, Poo-Pourri is a bathroom spray like no other. A FANTASTIC gift! (and yes, it really works) If you haven't seen the Poo-pourri ad, you are missing out. The video has 32 million views, and the product has solid Amazon reviews. We bought some for Christmas in the regular scent, and love it. Definitely a fun quirky gift!

10. Portable Crock Pot
With 80% 5-star reviews, grab a portable crock pot for warm meals on the go. It's 20 ounces and can warm and heat your food. It has a warming base, but is light and easily transportable! It also comes in four colors; ocean blue, dark pink, black, and red. This is a great option for busy professionals or college students.


11. Plastic-Free Hand Soap
Lately, I've been in love with Blueland's foamy handsoap. Their packaging is sleek and beautiful, without the plastic. You can get their hand soap with or without a glass bottle, and the soap comes in tablets for a zero-waste experience. The packaging is compostable, and the tablets are only $2 each.
I love Lovepop's intricate 3D cards, since they're unique and beautiful. From careers (like firefighter) to every single holiday or event, Lovepop has a ton of great options to choose from.
The Color Clutch is an easy way to visibly store nail polish so you can SEE ALL YOUR POLISH AT ONCE. Plus, the side has a place for you to swatch your colors so you can file them away and still see what's inside. (it also says you can take it off with nail polish remover, but I have not tried it yet.)

14. Custom Library Stamp – $20

Are you a homeschooler, teacher, or general bibliophile? Get a custom library stamp for your book collection! Etsy has quite a few different cute ones; here is one example.


15. Fun Sticky Notes – $5-$10
Coming from a big family, one of the biggest disappointments in life is finding out the leftovers you've been waiting to eat have been eaten by a family member. Get these great sticky notes for siblings and family members! The company, Knock Knock, has a large variety of hilarious sticky notes for home, work, and school.

16. Custom Binder Clips – 12 for $6.70
To brighten up your life with a pop of color, or for someone who absolutely loves color, these binder clips make great gifts. I've bought several from this seller and love using them around my office area.

This one is $30, but has so many cool kitchen gadgets in one piece, making it a great option for new kitchens.
Honorable Mentions